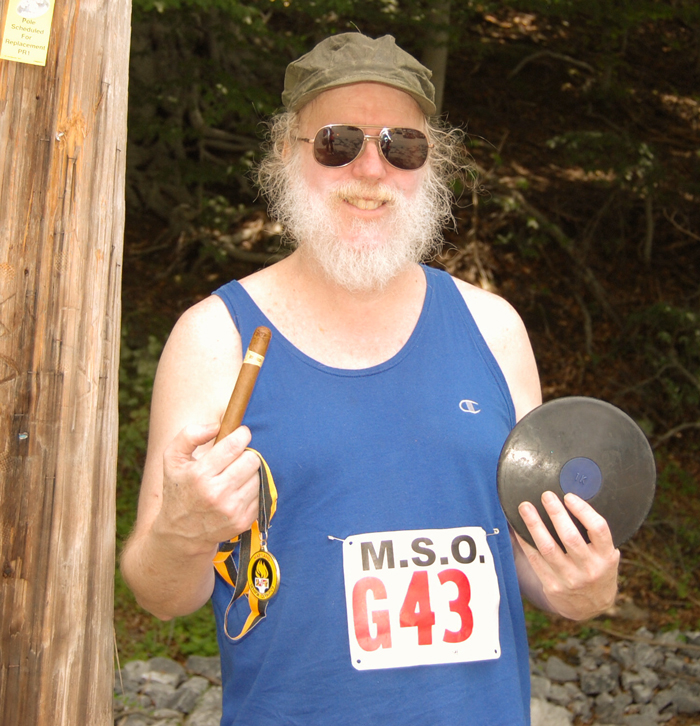 Thanks to the Maryland Senior Olympics for a hoot of a track meet today.  Finished first in my age category – my first win with the discus since 1974 (insert "Geezer Alert" here).  Below is a film clip of one of my throws.  I have forgotten what the joke was that spurred my hearty laughter before I threw.  My effort was fairly haphazard.  I was winding up and then paused to remove my sun glasses  – which had flown off in a previous throw.
In the photo, I am holding one of the three discuses I was prohibited from throwing – I had never heard that rubber discuses were banned in meets (I used a rubber discus when I threw in the Virginia high school championship meet in 1974).
For the record, I was also banned from smoking the cigar on the event grounds – but I was expecting that.
The officials overall did an excellent job (aside from a few @#&*%! rules) and offered comments to assist each thrower.  The other competitors were a fine bunch of guys – one of 'em kindly loaned me a discus. It was fun to shoot the bull with them and enjoy a few flashbacks to a time long ago.
A major difference between throwing discus in high school versus now is that I can drink beer legally after a meet.
Below are a couple still shots from the video of my final throw. I tried wearing a different hat but didn't seem to help.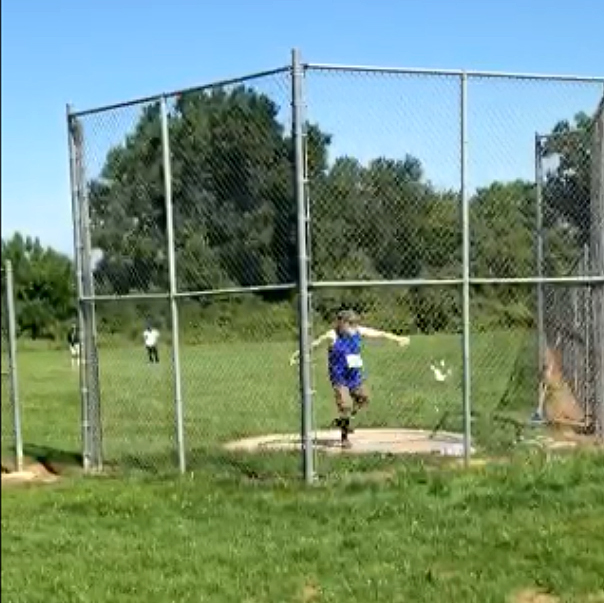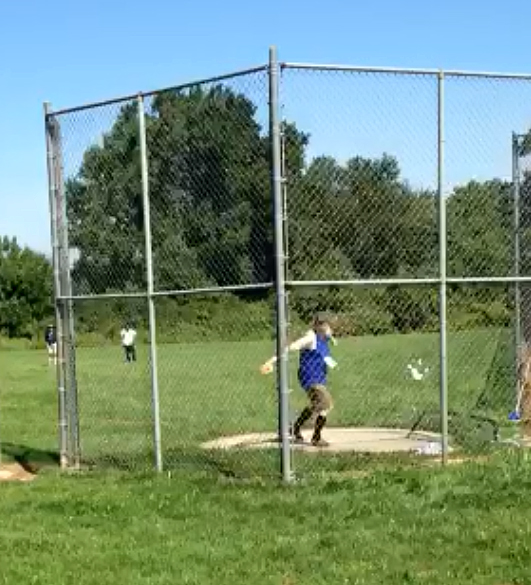 And here's a shot from the warmups. As usual, I was a non-contender for any fashion awards.  I was wearing a pair of old shoes with a smooth bottom (to ease the spinning).  I had doubts about whether the shoes would hang together so I brought a roll of duct tape with me.  Happily, the shoes did not bust mid-throw.