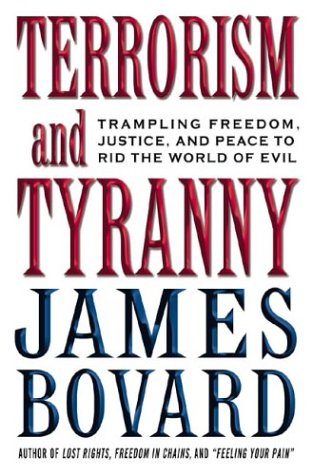 Nineteen years after the 9/11 attacks, the War on Terror is still the biggest sham of this century. President George W. Bush promised to "rid the world of evil" and instead unleashed war and carnage.  American troops are now fighting in 14 nations as part of an endless crusade against "extremists." President Obama provided massive military aid and other support to Al Qaeda-linked terrorist groups in Libya and Syria – and the Trump administration continued the Syrian idiocy and has repeatedly veered close to war with Iran. Trump talks of "ending endless wars" but he has failed to deliver on one of his most important 2016 campaign promises.
The terrorist watchlist has over a million names compiled in a process that is a parody of due process. The feds claim a right to treat every American like a terrorist suspect every time they buy an airplane ticket. The National Security Agency has ravaged Americans' privacy but supposedly the real villains are Julian Assange and Edward Snowden.
Will America ever politically recover? Politicians have perpetually exploited 9/11 to kill foreigners and to repress Americans. Will this constitutional travesty never end?
This is the 17th anniversary of the publication of Terrorism and Tyranny: Trampling Freedom, Justice, and Peace To Rid the World of Evil.   The last sentence of the first chapter asked: "What are the prospects for the survival of American liberty from an endless war against an elusive, often ill-defined enemy?"
Here is a link to the transcript of my C-SPAN Booknotes interview on that book.
Here is a link to the Introduction chapter of Terrorism & Tyranny.
Here are the reviews the book spurred.
Here's some of the epigrams from the book:
*The Patriot  Act treats every citizen like a suspected terrorist and every federal agent like a proven angel.
*Most of the homeland security successes in the war on terrorism have been farces or frauds.
*Nothing happened on 9/11 that made the federal government more trustworthy.
*The worse government fails, the less privacy citizens supposedly deserve.
*The U.S. government is far more efficient at making enemies than at defending Americans.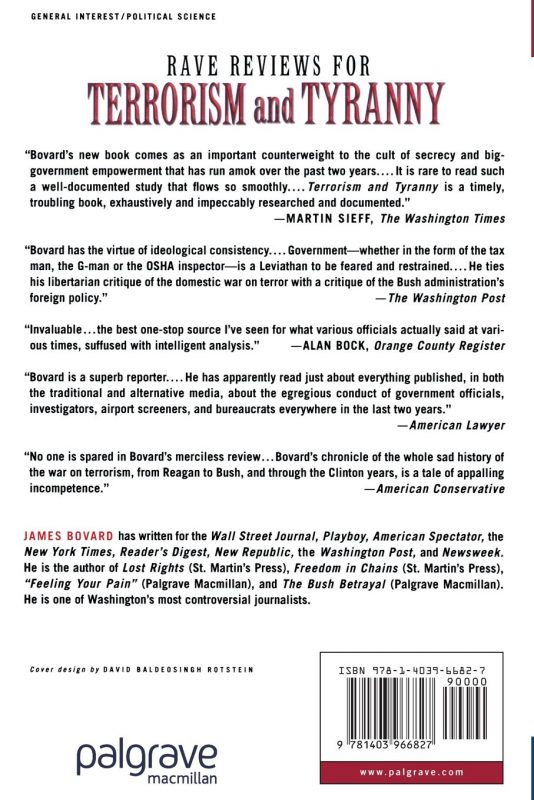 *Killing foreigners is no substitute for protecting Americans.
*Perpetual war inevitably begets perpetual repression. It is impossible to destroy all alleged enemies of freedom everywhere without also destroying freedom in the United States.
*A lie that is accepted by a sufficient number of ignorant voters becomes a political truth.
*Citizens should distrust politicians who distrust freedom.
*In the long run, people have more to fear from governments than from terrorists. Terrorists come and go, but power-hungry politicians will always be with us.
*The word 'terrorism' must not become an incantation that miraculously razes all limits on government power.
***
From the Bush Betrayal (St. Martin's, 2004)
There are no harmless political lies about a war. The more such lies citizens tolerate, the more wars they will get.

The myths of 9/11 continue to threaten American safety.
Following are some of my early attacks on the War on Terrorism:
Investor's Business Daily October 2, 2001
Government Trust Grows Despite Its Inability to Protect
by JAMES BOVARD
Like a phoenix rising from the ashes, Americans' trust in government is soaring after the Sept. 11 terrorist attacks. The number of people who trust the government to do the right thing has doubled since last year, and now is more than three times higher than in 1994. According to a Washington Post poll released on Sept. 27, 64% of Americans now "trust the government in Washington to do what is right" either "just about always" or "most of the time."
Ronald Brownstein, a Los Angeles Times columnist, declared on Sept. 19: "At the moment the first fireball seared the crystalline Manhattan sky last week, the entire impulse to distrust government that has become so central to U.S. politics seemed instantly anachronistic." Brownstein's headline – "The Government, Once Scorned, Becomes Savior" – captured much of the establishment media's response to the attacks.
It is puzzling that trust in government would soar after the biggest intelligence/law enforcement failure since the surprise attack on Pearl Harbor. At least in the first weeks after the attack, the federal government's prestige appears higher than at any time since the start of the Vietnam War.
The Post poll also revealed that the disastrous attacks of Sept. 11 greatly increased Americans' confidence that government will protect them against terrorists. From 1995 through 1997, the results consistently showed that only between 35% and 37% of Americans had "a great deal" or "a good amount" of confidence that the feds would deter domestic attacks by terrorists. In hindsight, the public was far more prescient than were the Washington policy-makers who chose not to make defending against such attacks a high priority. In the aftermath of the Sept. 11 attacks, confidence in government's ability to deter terrorist attacks has soared – clocking in at 66%, almost double the percentage in the most recent previous Washington Post poll on this question in June 1997.
The bigger the catastrophe, the more credulous many people seem to become. The worse government failed to protect people in the past, the more certain most people become that government will protect them in the future.
Prominent liberals are capitalizing on the new mood to call for razing the restraints on government power. Wall Street Journal columnist Al Hunt says it's "time to declare a moratorium on government-bashing…. For the foreseeable future, the federal government is going to invest or spend more, regulate more and exercise more control over our lives," he rejoices.
"There is no real debate over expansion (of government power) in general." Washington Post columnist Jim Hoagland snipped, "Ideologues on the right saw government as an evil to be rolled back." In a breathtaking leap of logic, he reasons: "The terror assaults on the World Trade Center and the Pentagon … should profoundly shake the less-is-more philosophy that was the driving force for the tax-cut politics of Bush and conservative Republicans."
But there is no evidence that Osama bin Laden targeted the U.S. because of ire over George Bush's proposal to reduce the estate tax. Hoagland's effort is reminiscent of liberal efforts after the assassination of John F. Kennedy to paint right-wingers everywhere as unindicted co-conspirators in Kennedy's killing.
It is difficult to understand how the failures of the CIA, the FBI, and the Federal Aviation Administration could generate a blank check for all other federal agencies to exert more control over 270 million Americans. The success of the disastrous attacks of Sept. 11 were due far more to gross negligence and a shortage of competence than to a shortage of power. The federal government needs sufficient power to protect Americans against terrorist attacks and to harshly punish the perpetrators of the recent attacks. But such power shouldn't place a golden crown on the head of every would-be bureaucratic dictator, from the lowest village zoning enforcer to the most deluded federal agency chieftain.
The blind glorification of government, now popular, puts almost all liberties at grave risk. At least for the time being, people have lost any interest in government's batting average – either for actually protecting citizens or for abusing power. The best hope for the survival and defense of liberty is that enough Americans will recall the type of history lessons that public schools never teach.
At this time of national crisis, we must forget neither our political heritage nor the inherent limits of any governmental machinery. Government has a vital role in defending Americans from deadly foreign threats. But nothing that happened on Sept. 11 or since changed the fundamental nature of American government.
James Bovard is the author of "Feeling Your Pain: The Explosion & Abuse of Government Power in the Clinton-Gore Years"(St. Martin's Press, 2000).
+++
In late September 2001, Reason magazine asked a handful of folks "to discuss which civil lliberties they thought were most at risk in what has been called America's first 21st century war." They published the responses in an article entitled, Guarding the Home Front: Will civil liberties be a casualty in the War on Terrorism?" in their December 2001 issue.
Here was my take a few weeks after 9/11:
Lessons Never Taught Jim Bovard
The blind glorification of government currently prevailing puts almost all liberties at grave risk. Most of the media and most of the politicians are stampeding behind the notion that the greatest danger is any limit on federal power. The Justice Department wish list of remedies invokes the danger of terrorism to seek sweeping new powers to be used against all classes of alleged criminals.
The determination of some members of the Bush administration to use the terrorist attacks to wage wars against a laundry list of "rogue nations" could mean that aggressive military action continues indefinitely–along with the pretext to suppress Americans' freedom of speech and movement. And if there is another successful terrorist attack that kills many Americans, the pressure for severe crackdowns will probably be irresistible–regardless of how badly government agencies screwed up in failing to prevent the attack. At least for the time being, people have lost any interest in government's batting average–either for actually protecting citizens or for abusing power.
The best hope for the survival of liberty is that Americans will finally learn the history lessons public schools never taught.
Jim Bovard is the author, most recently, of Feeling Your Pain: The Explosion & Abuse of Government Power in the Clinton-Gore Years (St.Martin's Press).
USA TODAY, January 10, 2002
By James Bovard
President Bush recently declared: "So long as anybody's terrorizing established governments, there needs to be a war." Bush rightfully sought international support for the campaign to put the al-Qaeda terrorist network out of business. But the war on terrorism threatens to become a license for tyranny.
The United Nations is concerned that an expansive call for governments to crack down on terrorism — a crime that is not clearly defined — is spurring a surge of oppression around the world. Los Angeles Times writer William Orme detailed some of the ways governments are exploiting the new war to repress their citizens:
The Cuban government, as part of its war on terrorism, added a new law allowing the death penalty for anyone who uses the Internet to incite political violence.
Zimbabwe's war on terrorism includes a proposal to criminalize any critical comment about President-dictator Robert Mugabe.
Syria bragged to the U.N. that financial support for terrorists was effectively curtailed by the absence of any private banking system or independent charities, Orme reported. In other words, a government that totally destroys freedom expects to be applauded as an anti-terrorist superstar.
Bacre Waly Ndiaye, a chief U.N. human-rights officer, recently complained: "In some countries, non-violent activities have been considered as terrorism, and excessive measures have been taken to suppress or restrict individual rights, including the presumption of innocence, the right to a fair trial, freedom from torture, privacy rights, freedom of expression and assembly, and the right to seek asylum."
Here at home
Many of these complaints, in fact, apply to the actions of the Bush administration. A new law decimates individual privacy by giving the FBI the de facto right to vacuum up practically anyone's e-mail. Permanent resident aliens who publicly criticize the U.S. government's war on terrorism can be banned from re-entering the United States. Some have floated the suggestion that permitting the torture of suspects could help avert future terrorist attacks. And Bush's executive order for military tribunals threatens to bring unsavory aspects of Third World "justice" to American shores.
A myopic focus on private-sector criminals risks giving a green light to more dangerous government abuses. A core fallacy of the war on terrorism — as opposed to attacking and destroying al-Qaeda — is that terrorism is worse than anything else imaginable. Unfortunately, governments have committed far worse abuses than al-Qaeda or any other terrorist cabal.
Official murderers
Mass murder was the most memorable achievement of some 20th-century governments. The Black Book of Communism, a 1997 scholarly French compendium, detailed how 85 million to 100 million people came to die at the hands of communist regimes in the Soviet Union, China, Cambodia and elsewhere. In Death by Government, R.J. Rummel declared that some 170 million people were killed in one of "the myriad ways governments have inflicted death on unarmed, helpless citizens and foreigners."
By raising terrorist attacks to the pinnacle of political evil, the war on terrorism implicitly sanctifies whatever tactic governments use in the name of repressing terrorism. But, in the long run, people have far more to fear from governments than from terrorists.
Bush's labeling of attacks on any "established government" as a justification of counterterrorism ignores the fact that some governments are little more than criminal conspiracies against their victims. The United States was created as a result of popular uprisings and attacks on an established government that was far less oppressive than many current regimes in Africa and Asia.
The Bush administration must find a way to fight terrorism without sanctifying tyranny. The word "terrorism" must not become an incantation that miraculously razes all existing limits on government power. The fact that governments such as Syria and Zimbabwe can justify their oppression by invoking the war against terrorism is an embarrassment to anyone who both opposes terrorism and favors human rights.
James Bovard is the author of Lost Rights and Freedom in Chains.
+****
Playboy April 2002
HEADLINE: Terrorizing the bill of rights.
BYLINE: BOVARD, JAMES
How do you find a needle in a haystack? Set fire to the haystack.
Following the September 11 attacks, Congress joined the largest manhunt in history by passing a 342-page bill called the Uniting and Strengthening America by Providing Appropriate Tools Required to Intercept and Obstruct Terrorism Act. The bill's acronym, USA PATRIOT, revealed the depth of feeling, if not thought, that had gone into the measure. In support of the bill, House Judiciary Committee chairman James Sensenbrenner declared, "The first civil right of every American is to be free of domestic terrorism."
USA PATRIOT rewrote laws that had been put in place to curb past government abuses. It gave Attorney General John Ashcroft powers that would have been unthinkable a few months before. Lawmakers claimed they were bringing the Bill of Rights up to date, allowing law enforcement to operate efficiently in the age of the cell phone and laptop.
Thanks to USA PATRIOT and the flurry of executive orders that have followed, our government now can more easily conduct secret trials, listen to privileged conversations between prisoners and their counsel, imprison people indefinitely on minor charges without even confirming they are being held, eavesdrop on any telephone that a suspect may use (including those in public places such as airports), sort through thousands of private e-mails while promising not to read "content" (a term left undefined), conduct "sneak and peak" searches for physical evidence without notifying the suspect at the time, rummage through school records of foreign students and appoint bank clerks and employers as deputy counterterrorists (with no training). The CIA and other intelligence groups have been allowed back into the domestic arena. All manner of checks and balances, of oversight, have been tossed onto the bonfire.
In some cases, agencies seeking wiretaps in criminal investigations no longer need establish probable cause. A month after Bush signed USA PATRIOT, the administration went even further. It proposed "fill-in-the-blank" wiretaps on suspects when federal agents do not know the person's name. The Bush administration also wanted to allow agents up to 72 hours after conducting an "emergency" wiretap or search to request ex post facto permission from a judge for the intrusion.
USA PATRIOT is a classic bait and switch. Although its stated purpose is to defeat domestic terrorism, the government's new power reaches far beyond box cutters. For starters, the law defines domestic terrorism as activities involving "acts dangerous to human life" that, among other things, may "appear to be intended to influence the policy of a government by intimidation or coercion." Perhaps the lawmakers saw only images of airliners flying into skyscrapers, but the language is broad enough to encompass many less-extreme activities. It may take only a few scuffles at a rally to transform a protest group into a terrorist entity. The new thinking would allow the government to drop the hammer on environmental extremists (even those who are not spiking trees), anti-trade fanatics (even those who don't trash Starbucks) and anti-abortion protesters (even those who don't attack doctors). Even if the violence at a rally is initiated by a government agent provocateur–as happened at some Sixties antiwar protests–the feds could still reap the power to treat all of a group's members as terrorists.
And it will not be necessary to have participated in a rowdy street demonstration to be indicted under this act. If you provide a demonstrator with a place to sleep, you could be found guilty of aiding and abetting terrorism. Likewise, if you donate to an organization that may in the future be classified as a terrorist entity–including Greenpeace, the Gun Owners of America and Operation Rescue–you could face prison. Are such concerns far-fetched? Unfortunately, no. The Philadelphia Inquirer examined terrorism prosecutions from 1997 to 2001 (before the definition of terrorism was expanded). Among the supposed acts of terror were a tenant who impersonated an FBI agent in a call to his landlord protesting an eviction, an airline passenger who got drunk on a flight from China and demanded more liquor in an unruly fashion and a guy who asked his shrink for medicine because voices were telling him to kill George W.
Many of the bill's provisions are not bound by definitions of terrorist. New powers can be used against those suspected of breaking a criminal law, be it wearing the fur of an endangered species or being less than truthful to an IRS agent. As for the roving wiretaps and e-mail surveillance, you don't even have to be a suspect to have your right of privacy sacrificed.
The idea that sacrificed civil rights are the price we pay for security in times of crisis is hardly new. Such thinking seeks to justify the perpetual detention of terrorist suspects and the incarceration of those who criticize homeland security or disagree with Ashcroft's designation of certain groups as terrorists. There are historical precedents. President John Adams used sedition laws to lock up dissenting newspaper editors and the occasional congressman. Abraham Lincoln suspended habeas corpus during the Civil War. World War I gave us the Espionage Act, which made it illegal to "willfully utter, print, write or publish any disloyal, profane, scurrilous or abusive language about the form of government of the United States." And the list goes on. How far will we go?
The Bill of Rights does not distinguish between citizens and immigrants; it protects individual rights, not those of a privileged class. But the Attorney General now needs only to certify that he has "reasonable grounds to believe that the alien is engaged in any activity that endangers the national security" to detain an alien. But, we were proud to learn, those who are in custody still have some rights. When the Justice Department refused to disclose the names of its detainees, Ashcroft explained that the silence was necessary to protect their privacy.
Speaking before Congress, Ashcroft defended the secrecy of military tribunals thusly: "Are we supposed to read them their Miranda rights, hire a flamboyant defense lawyer, bring them back to the U. S. to create a new cable network of Osama TV or what have you, and provide a worldwide platform from which propaganda can be developed?" Well, yes. Better that than taking them into a soccer stadium and executing them without a trial, without evidence–or, worse, with secret evidence. The Bill of Rights was designed to protect individuals (not just citizens) from such overzealousness–or is it arrogance?
USA PATRIOT treats every American as a potential suspect, every federal agent as an angel. It asks us to ignore such dark episodes as the surveillance of Martin Luther King Jr., Cointelpro, the murder of Black Panther Fred Hampton and the Red files of the McCarthy era. Ashcroft scoffs at criticism and says simply, "Trust me." But already, the definition of the enemy has changed. In the hearing before Congress, the attorney general chastised potential critics, saying, "To those who scare peace-loving people with phantoms of lost liberty, my message is this: Your tactics only aid terrorists, for they erode our national unity and diminish our resolve. They give ammunition to America's enemies and pause to America's friends."
The Bush doctrine that "you're with us or with the terrorists" has come home.