As I was testing the beer yesterday at a Rockville, Maryland, Memorial weekend event, my eye was caught by a t-shirt with the following bilingual motto: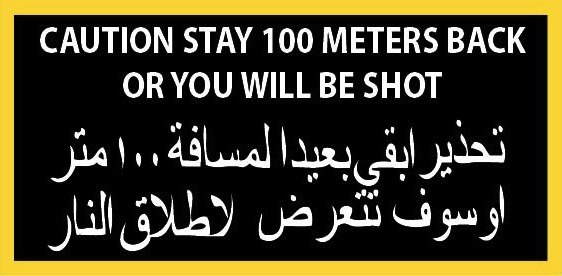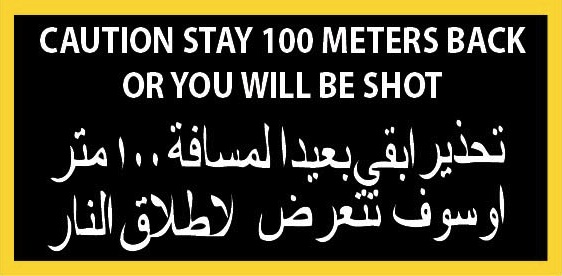 The black t-shirt was worn by a late 20-something with a military-style haircut. He was accompanied by his wife who was pushing baby stroller. I ambled around to get in front of the guy – his shirt had some type of unit logo but it was obscured by the baby he was holding up against him. Unfortunately, I did not have the ol' Nikon D-40 hanging around my neck.
This "100 meters" warning sign was commonplace for U.S military vehicles in Iraq. I glanced at a few photos of such vehicles online and I wondered how close a person would need to be to read such lettering. Probably far closer to 100 meters.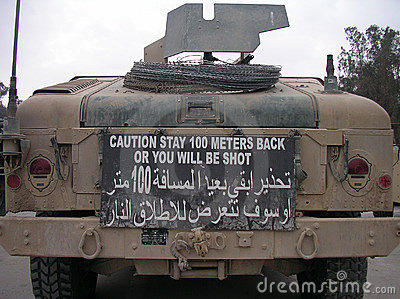 But since the vehicles had the warning notice, any resulting killings of civilians were justified – because the victims should have known.
Shootings of innocent Iraqis at U.S. checkpoints and near U.S. vehicles were so commonplace that the military usually ignored the carnage. U.S. checkpoints were often poorly marked – turning them into death traps for unwary Iraqis. Here is one of the most iconic photos of the Iraq war, depicting five-year-old Samar Hassan wailing after U.S. troops killed her parents at a checkpoint in Tal Afar in 2005.
Author Chris Hedges noted, "Troops, when they battle insurgent forces, as in Iraq, or Gaza or Vietnam, are placed in 'atrocity-producing situations.'" Placing U.S. troops in hostile foreign venues with almost-impossible missions that practically guarantee that innocent people will be gunned down.
But congressmen ignored the carnage they helped spawn because they never ran into one of the "100 meters… or we'll shoot" warning signs on Capitol Hill.
When I see Iraq vets proudly wearing the "100 meters… or be shot" slogan on their shirt or car, I can't help wonder: Was this the guy who made Samar Hassan an orphan?
FWIW – Here's a link to an essay I wrote last Memorial Day.
On Twitter @jimbovard
James Bovard