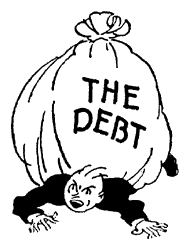 I was interviewed yesterday by Press TV on the record setting national debt.   The old Roman saying in the headline for this blog occurred me to after the interview finished but oh bother.   You can hear the early morning monologue by clicking here. And here are some outtakes from the interview:
"The debt load is far more dangerous than it appears especially as far as the government debt and the government guaranteed debt," James Bovard from The Future of Freedom Foundation told Press TV in a phone interview Tuesday.
"President Obama has sent our national debt into the stratosphere and he's been doing for programs that have done not nothing to boost American productivity and are not going to make the US a better place or a more prosperous place in the decades to come," he added.
Latest economic data from the St. Louis Federal Reserve showed that the government, businesses and people in the United States were $59.4 trillion in debt at the end of the first quarter of 2014.
"There are a lot of ways the US government is encouraging Americans to have bad financial habits.  Folks can write off their interest payments on their tax returns which basically is a government incentive – almost a subsidy — for people to borrow more money and spend more money that they have," Bovard said.
[image reposted from libertyjuice.com]
On Twitter @jimbovard