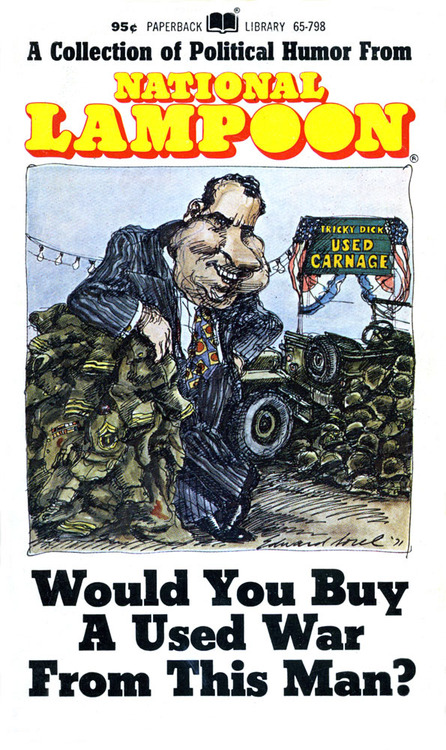 Trump's speech on Afghanistan this evening reminded me of this book cover from the early 1970s.  This was probably some of the first political humor which I relished.  National Lampoon was much more reliable on Nixon's foreign policy than was the Washington Post.
Here is my running commentary via Facebook:
So Trump will speak in a few minutes on his solution for Afghanistan. I am on the edge of my chair, waiting to see if he forever banishes my cynicism about politicians. It's always a bad sign when a speech is given to a military audience – nobody can hoot or jeer without ruining their career.
*B

ummed that Trump is not wearing his solar eclipse glasses.

*  

"a wound inflicted on one part of our community is wound to all" – oh Lordie

*   

Third time for 9/11. What is the betting odds for the final # of mentions?

*   

"big and intricate problems" – damn, if only we had known

*

"We will learn from history" – WHOOP WHOOP

*

"a successful outcome" – which means WTH in Afghanistan?

*  

Personally, I have never been inspired by laundry lists.

*  

Lifting restrictions on U.S. military attacks – what could go wrong?

*  

promising "economic development" in Afghanistan – is he plagiarizing GWBush?

*

Talking about the need for Afghan political reforms – what a crock. Heard this so many times…

*

"restore the bonds of loyalty among our citizens at home" – …bad news for any NFL player who does not stand for the national anthem?

*

Trump may have gotten rolled by the Pentagon on his Afghan surge the same way Obama got rolled in 2009

* *