by James Bovard
In the summer of 1975, I took off hitchhiking from the mountains of southwest Virginia to visit a college girlfriend in New England. Less than 300 miles into the trip, my thumb lost whatever magic it once possessed. After striking out for six hours on an Interstate ramp in Hagerstown, Maryland, I hoofed to the nearest Trailways bus station and bought a ticket to Connecticut.
Seventy-five miles later, the first bus I took expelled all passengers in the Trailways station in Charm City, USA — Baltimore, Maryland. The clientele there were not like the hipsters who ride MegaBus or Vamoose nowadays. Instead, many folks in the waiting room were damn-near-down-and-out types who had somehow scraped together enough change for a bus ticket. On the other hand, with my scruffy red beard and battered railroad engineer cap, I could not have passed for a Brooks Brother model.
I was 18, and my philosophical pretensions were at high tide as I surveyed the desolate scene. I pulled out my spiral notebook and jotted in my journal that cities are "a mental wasteland" where "eyes are strictly avoided."
It never occurred to me that judging all metropolitan life on the basis of one dingy bus depot was not the fairest test of all. And Charm City was not quite representative of urban America. A few years earlier, John Waters's film Pink Flamingos had luridly portrayed Baltimoreans competing to win the title of "Filthiest Person Alive." Baltimore was in the third decade of its decline, a plummet greatly accelerated by the riots of the late 1960s.
Since my soul was untainted by urban blight, I was not aloof like almost everybody else there. I soon had a guy with a brown bag and a bottle sitting next to me telling me his life story. He offered me a swig from the bag, but I declined, obeying the old maxim to never drink what I couldn't see. Other people in the bus station shunned this guy; perhaps they were prejudiced against drunks who sporadically sang loudly to themselves.
"Bobie"His name — as he printed it in my notebook — was "Bobie." I didn't quibble with his spelling, or with the four different names he called me over the next few hours. (He sat next to me on the bus ride to New York City.) He was a fortyish, gaunt white guy with sunken cheeks and tousled hair. Though he was haggard, he clearly had had a solid build in earlier decades. The Baltimore mailing address he wrote down matched that of an alcohol detox center.He was an Army veteran who talked of being pinned down for weeks in Korea after the North Korean Army launched a surprise attack in 1950 that threw American foreign policy into chaos. Bobie finally got respite on that campaign after Gen. Douglas MacArthur carried out a massive landing at Inchon, outflanking the North Korean army. He did not say much else about the Korean War — which might have seemed like a thousand years ago to him (and to most contemporary Americans).

But it was in Vietnam where Bobie's soul got shredded. He was on patrol one day — part of the Johnson administration's strategy to use U.S. troops as bait to flush out the Viet Cong and North Vietnamese regulars into firefights. Bobie said he saw a young Vietnamese girl standing nearby knee-deep in a river. He feared she had a grenade behind her back so he cut her down with his M-16. He wept uncontrollably after he and his buddies searched the scrawny ten-year-old's corpse and discovered she was unarmed. That girl achieved eternal life in Bobie's nightmares.

He said that such incidents were commonplace in Vietnam and that his own actions "make Calley look like a Boy Scout." (Lt. William Calley had recently been convicted for massacring Vietnamese civilians at My Lai.) I had no way to verify Bobie's statements, but it was not like people received prizes for confessing to war crimes in bus stations. Almost 30 years later, David Hackworth, a retired colonel and the most decorated officer in the Army, declared, "Vietnam was an atrocity from the get-go…. There were hundreds of My Lais. You got your card punched by the numbers of bodies you counted." American soldiers faced more legal perils for reporting atrocities than for committing them. Rank-and-file whistleblowers would be threatened with criminal charges if they tried to inform higher-ups about a massacre or other abuses.

Bobie spoke as if every waking hour was a supreme torment that made him wish he was dead. His mind was probably fairly sharp until he boozed his brain to obliteration. He passed out a couple times during the trip to New York, but he didn't vomit or die, so he was tolerable company.

The bus finally arrived in Manhattan's Port Authority bus terminal. Back then, the Port Authority was a dumping ground for all the maggots on the East Coast. Or maybe they weren't maggots — maybe they were only wastrels. It seemed fully stocked with beggars, muggers, and casting directors for plotless porn movies. Spending time there gave me new respect for Baltimore.

Bobie was wobblier in New York than in Baltimore — the second pint of whiskey he chugged on the ride did nothing to improve his gait. He had told me he was heading for a Veterans Administration treatment center in Albany so I tried to help him find his connection. Eventually, I had to bail to catch a bus to Connecticut. The last I saw Bobie, he was riding up an escalator, slump-shouldered and looking utterly bewildered and forlorn.

Tales of war

I had always been intrigued by war stories from combat veterans. My first girlfriend's father was one of the few American survivors of the Malmedy massacre carried out by S.S. troops during the 1944 Battle of the Bulge — the best-known clash after D-Day. When I was 16, I worked one summer on a road crew for the Virginia Highway Department. In one backwater of the county, an aged World War One veteran would drop in and regale us with stories from his time in France almost 60 years before. The older guys on the crew warned not to put much credence in anything the geezer said, but listening to his tales was better than working. Few of the American veterans of that war experienced the long-term trench warfare that permanently traumatized many British, French, and German troops.

But riding with Bobie was the first time I saw first-hand how someone could be ravaged by a war I had once supported. In 1968, I had been interviewed at Boy Scout Council headquarters in a nearby town and was asked, "What do you think of the Vietnam situation?" Like almost any other 12-year-old Scout, I favored taking a stand in Vietnam so that all of Southeast Asia did not fall under the sway of godless communists. The following month, our family was returning from a visit to New Jersey when my father drove past a massive anti-war protest in downtown Washington on the day before Richard Nixon's first inauguration. I was mesmerized by the endless columns of folks carrying anti-war and anti-Nixon placards, doing their best to yank in the reins on a war machine.

My enthusiasm for the Vietnam War waned as I entered high school and as war veterans began speaking out publicly about the travesty. In 1973, the Nixon administration and Congress ended military conscription — lucky timing, since I turned 18 the following year. Nixon at that point was being exposed as a pathological liar as his administration entered a Watergate death spiral. By the time he resigned, I had nothing but contempt for him.

I don't know exactly when Bobie shot that girl in Vietnam, but both Lyndon Johnson and Nixon did all they could to cover up civilian atrocities in that war. Johnson complained in March 1967, "Any civilian casualties that result from our operations are inadvertent, in stark contrast to the calculated Vietcong policy of systematic terror…. Yet the deeds of the Vietcong go largely unnoted in the public debate. It is this moral double bookkeeping which makes us get sometimes very weary of our critics."

Later that year, in the Central Highlands of South Vietnam, 101st Airborne Division troops attacked to "drive peasants out of villages and into heavily guarded 'strategic hamlets.'… Villages were bombed, burned and destroyed. As the ground troops swept through, in many cases they gunned down men, women, and children, sometimes mutilating bodies — cutting off ears to wear on necklaces," the New York Times noted in 2003. The actions were labeled a "pacification" campaign, presumedly because dead people are irrevocably pacified.

Civilians

The U.S. government pretended it was not targeting innocent South Vietnamese civilians because everyone in large swaths of the country was guilty by geographic definition. The Washington Post reported in 1965 that American pilots "are given a square marked on a map and told to hit every hamlet within the area. The pilots know that they sometimes are bombing women and children." And policymakers could not be blamed for the deaths of the cartographically damned. Harvard historian Sahr Conway-Lanz noted, "The U.S. armed forces deemed large parcels of the South Vietnamese countryside to be 'enemy base areas' or 'enemy supply areas.'…  Within this territory … any building, vehicle, or person could be targeted." As the war dragged on, the United States increasingly relied on B-52s to carpet-bomb many areas of South Vietnam.

Nixon, like Johnson before him, publicly insisted that the United States was careful to avoid killing innocent people. In private, Nixon had no qualms. In a 1972 conversation captured by his White House taping system, Nixon told Henry Kissinger, "The only place where you and I disagree … is with regard to the bombing. You're so goddamned concerned about the civilians and I don't give a damn. I don't care." Kissinger replied, 'I'm concerned about the civilians because I don't want the world to be mobilized against you as a butcher."  In a later conversation with Nixon, Kissinger boasted, "Once we've broken the war in Vietnam … then no one will give a damn about war crimes."

Despite the horrors of Vietnam, politicians did not hesitate to inject American troops into foreign conflicts where it was impossible to distinguish friend from foe — what author Robert Jay Lifton labeled "atrocity-producing situations." The agony that Bobie went through foreshadowed the horrors experienced by many American soldiers who fought in Iraq and Afghanistan in the following century. I wonder how many of those vets plagued by Post-Traumatic Stress Disorder are doomed to perpetually ride escalators to VA hospitals that never quite expunge their demons.

This article was originally published in the May 2015 edition of Future of Freedom

If you enjoyed this piece, you might also enjoy my memoir, Public Policy Hooligan – available on Amazon.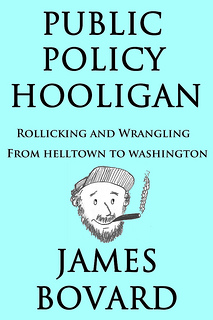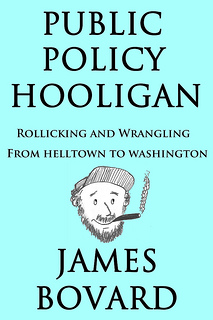 Thanks to Pixabay for the copyright-free bomb image.