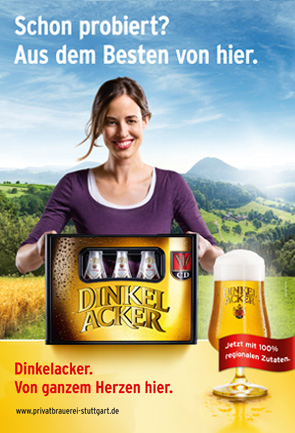 My all-time favorite beer is no longer being imported!
I have been a huge fan of Dinkel Acker, a wonderful German pilsner, for more than a decade. I would buy cases at a time, making it worthwhile to scamper across the Potomac to a state with civilized beer buying laws. (Montgomery County, Maryland, has a government monopoly over beer – it is akin to a Third World booze despotism).
I found out today that Spaten, which was the importer, has ceased distributing Dinkel Acker in the United States.
Dinkel Acker is a great beer – and it's wholesome. Take a look at that advertisement I pasted into this blog. It's almost the opposite image from St. Pauli Girl. You drink a Dinkel Acker, you feel like you are promoting virtue in the world.
But that's history, at least on this side of the Atlantic – or so it seems.
I welcome suggestions for a good lagers or Pilsners……..