Claire Wolfe has rolled out RATS –  a short book with great advice on how to protect yourself from informants, sting operations, narcs, and similar damn rascals. RATS is the rare book that is both passionate and thoughtful. Claire, with suggestions from folks who comment on her excellent blog, wove together a step by step self-defense guide for political activists and others whose private actions might put them in government crosshairs.  As Claire's preface explains,
This book is for you if …

You are a non-violent person engaged in any activity that may be controversial, illegal, or merely "sensitive" or unconventional. These days, anything out of the ordinary can make you a target.

Some people who could use this book:

Anti-war or environmental activists
Recreational drug users
Participants in the underground economy or anybody who does business in cash
Critics of local or national powers-that-be
Anyone whose profession involves "sensitive" information or activities
Gun owners or dealers
Third-party or "fringe" political activists
Hobbyists who work with dangerous materials
Photographers/videographers
Religious dissidents
People with offshore or unconventional investments (including perfectly legitimate ones)

It doesn't matter where you fall in the political spectrum or even if you're apolitical. If police might target you or your activities, you need to understand how snitches could mess up your life.

This book is NOT for you if …

You aim to commit violence against innocent people. In that case, reporting on you isn't snitching, it's self defense.
As a former Boy Scout, I am of course opposed to anyone breaking any law at any time.  But many people do not realize that the government can ruin your life even when you have hewed to the straight and narrow. Government informants routinely fabricate evidence and receive bonuses for false accusations that ruin innocent people's lives.
Despite my vehement objections, Claire is giving her book away free. It is available here to read online, or to download as a PDF or for a Kindle or Nook under a Creative Commons License, permitting the copying and distribution of the booklet at no charge for non-commercial purposes "as long as you attribute it to the original source… On the other hand, you may not alter or add to the text in any way. And you may not reproduce or distribute any part of this work for commercial purposes."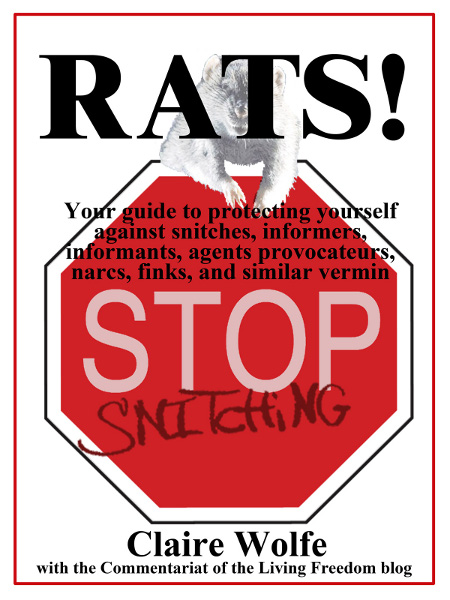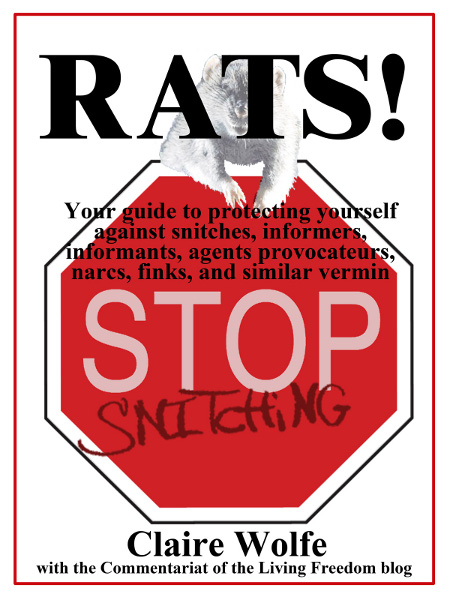 If you enjoy RATS, you will probably also love Claire's other books – such as Hardyville Tales,  The
Bad Attitude Guide to Good Citizenship,  The Freedom Outlaw's Handbook, and several other books available at Amazon.