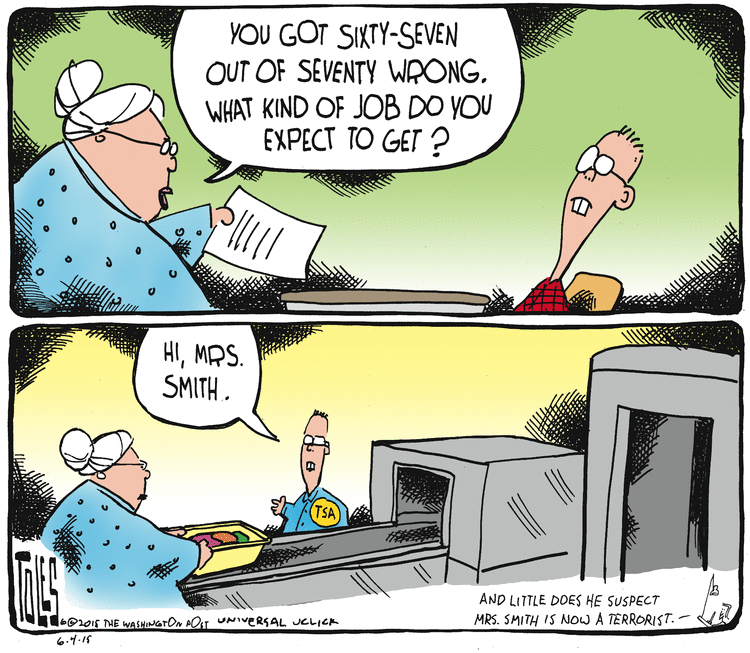 We learned this week that undercover Inspector General testers managed to smuggle fake weapons and bombs past TSA screeners in 95% of their attempts.
The worst part of this scandal is that it will make it more difficult for Obama and his Washington media lackeys to restore faith in government.
The Washington Post had a long story today consisting largely of self-exonerating quotes from former TSA chief John Pistole about why people should still trust the TSA.  But Pistole, who resigned in December, is responsible for the policies and the personnel that dismally failed the IG undercover test.
Pistole attacked an article I wrote last August on the TSA as "misleading, inaccurate and unfairly disparages the dedicated Transportation Security Administration (TSA) workforce… We are sure the opinions expressed in Mr. Bovard's piece are the exception, but we will not sit back and allow misinformation and conjecture to malign our employees."
I have been hammering the TSA since 2003, including a long chapter in Terrorism & Tyranny that was excerpted in Reason ("Dominate. Intimidate. Control").  I hammered the epidemic of TSA looting in the New York Times in 2004 and have tagged the agency in opeds periodically in the last few years.
I have written up some of my clashes with TSA screeners on the blog over the years.
On a hike near Great Falls, Virginia, I ran into a guy who had helped run TSA press operations in its early years.  He said that one of the mottoes of TSA staffers back then was "We reserve the right to get smarter."
I reckon they still reserve that right.
It is unfortunate that TSA managers are more concerned about their public image than about public safety – or about the rights & privacy of American travelers.
h/t to Tom Toles for another great cartoon