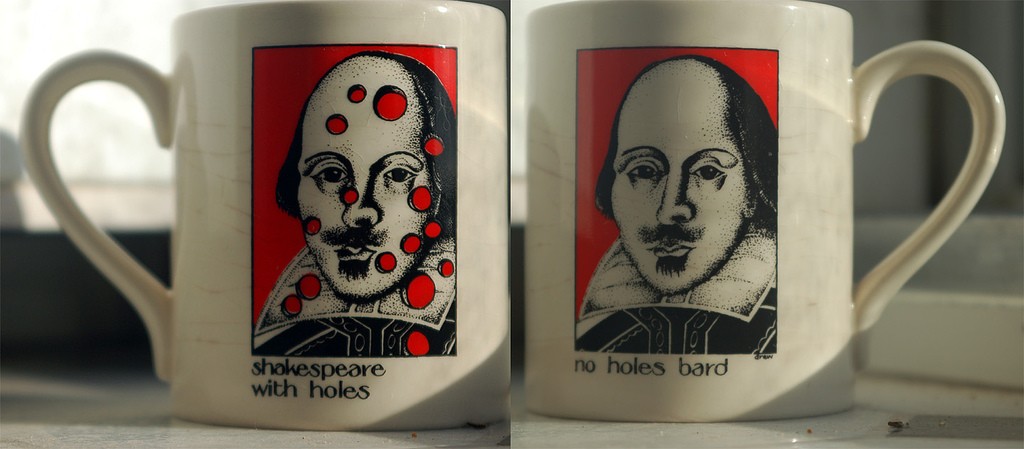 I am gratified that my Wall Street Journal piece on Silent Shakespeare is spurring thoughtful commentary from D.C. cultural luminaries. Here are a few samples:
* "Twat troll"  was the honorific bestowed by a team of four reporters for the Washington City Paper.  Hmmm…  could not find term in my edition of Shakespeare's Bawdy (1947).
* "Highbrow scorn" was how a second Washington City Paper piece characterized the WSJ piece.  Hmm…  I thought that being raised in the mountains of Virginia would make me immune to that charge.
* Unenlightened was the verdict of Synetic PR chief Alysa Turner in a  Washingtonian article on the WSJ piece. Her specific comment: "We're hoping to have more enlightened audiences than Mr. Bovard."
* Usurper was the tag for me in a blog post by arts consultant Howard Sherman.  Sherman was apparently offended that WSJ ran a non-adulatory piece  by someone who was "not a member of the paper's arts staff, and certainly not their widely-traveled critic Terry Teachout."  Thus, I usurped.[full quote below]  Sherman mentions that he assumes I am a "Shakespeare purist."  I suspect Sherman was especially pleased with his closing paragraph: "In Bovard's slash and burn approach to Synetic, I can only imagine that, metaphorically, the theater company somehow killed his father and married his mother, and after interminable dithering, he decided to seek revenge." Hmm…  maybe I am missing something, but where's the "dithering"?   The bio for Sherman, who lives in Manhattan, mentions that he secured the first National Endowment for the Arts funding for the American Theatre Wing when he was their executive director.
Seems like critics can't decide whether I'm an unenlightened Philistine or a highbrow purist S.O.B.
Why won't they let me be both?
*************************
+++ Here's the full quote from Sherman: "If it is becoming the Journal's policy to allow contributors to randomly allow contributors to slam the work of art, artists and companies they don't like, I trust they will also begin publishing pieces on work that contributors particularly enjoy, even if both seem to supersede the purview of their own critics. That said, I suspect the WSJ critics and arts writers might have their own feeling about such usurpers, and the editors might reconsider such pieces in the future."
I'm still struggling to understand his point – maybe Synetic can "translate" Sherman's work at some point.
UPDATE:  Rachel Sadon of DCist.com emailed me seeking comments on Synetic. Here's an outtake from her article:
Bovard: "I'm opposed to any government program that places more of Americans' life under the sway of politicians and bureaucrats," he said in an email to DCist. "Thus, I am opposed to federal subsidies for the arts—and most other activities. Addicting the arts to federal handouts will have the same dire consequences that many other forms of dependency produce."
But, he says, that wasn't really the point he was trying to make. "My article was an op-ed primarily about Shakespeare and the intellectual and literary cornucopia he continues to provide after four centuries—and about what is irreplaceably lost when his words are expunged," Bovard wrote.
After seeing the production last night, he stands by his words. "Some of their actors, like Scott Brown, are very talented. Some of the comic scenes in the latter part of the play were amusing at times," he told DCist. He was surprised that the show wasn't actually silent—"the actors shouted, laughed, sang, grunted, squealed, and cried"—but said the style made "mincemeat" of the plot.
Bovard's conclusion: "Synetic offered dry humping in lieu of Shakespearean dialogue. Synetic also rewrote the play to showcase the presumed strengths of its cast—perhaps what director Paata Tsikurishvili means when he says he takes Shakespeare 'to the next level.' Maybe Synetic believes that its East European-style pantomime is superior to the words Shakespeare wrote. I disagree."
UPDATE: Synetic Theater put out a new mission statement on Tumbler – "Shakespeare Beyond Words; The history of 'Wordless Shakespeare' at Synetic Theater."  This appears to be inspired in part by my WSJ piece.  The opening line declares, "At first glance, the phrase 'Wordless Shakespeare' seems oxymoronic." Synetic is now explicitly claiming that its silent productions are "deeper" than Shakespeare's original works.  Or at least that seems to be the gist of this mystifying sentence from their Tumblr posting: " The ensemble's willingness to [sic – words/phrase missing?] allows casts to delve deeper into the motivation of Shakespeare's more complex  characters, such as their exploration of Iago's inner life in Othello (2011)."
UPDATE: A former member of Synetic's board of directors, Howard Ruble, joined the fray with a blog post entitled "Physical Theatre and Public Policy Hooliganism."  Ruble apparently believes that I am a Libertarian Soviet Commissar Bigot. His commentary is so convoluted that it requires pantomime to comprehend. He apparently thinks that I am guilty of pro-Soviet bias – or maybe anti-Soviet bias – or maybe I am simply acting like a Soviet commissar and repressing art.
Ruble writes, "There would be no need to draw attention to this small kerfuffle had Bovard's denunciation remained limited to artistic concerns. Instead, he gratuitously notes that Tsikurishvili was 'raised in Soviet Georgia,' and concludes: 'But perhaps we should not be surprised that the city that pioneered obfuscation is now exalting expunging English altogether." He thereby transforms dramatic critique into political cause….  Bovard's reference to the 'Sovietness' of Georgia has no aim other than to taint public opinion by innuendo. The Tsikurisvhilis certainly are aware of Bovard's purpose as such ad hominem attacks were standard fare of the Soviet cultural overseers whom they sought to leave behind when they came to the United States."
My WSJ article merely mentioned in passing that Synetic's founders were from "Soviet Georgia" but apparently that makes me a an anti-immigrant cultural commissar.
Considering the caliber of Ruble's writing, I can understand why he prefers silent theater.
UPDATE: July 18 –  Critics of my article have endlessly invoked the Helen Hayes awards to refute my comments.  My article noted, "The Synetic Theater has harvested a bushel of Helen Hayes Awards (the local version of the Tony Awards)…"
Tomorrow's Washington Post has a long article bludgeoning the Hayes awards. The Hayes awards program this past April, which the Post says are "normally produced with a touch of glitz and long dubbed the District's 'theater prom,'" were a debacle.  "No plan was developed to dispense twice the prizes in two hours. Winners were commanded to race.  The result was an ignoble spectacle, with fashionably dressed actresses sprinting to the stage, toting their high heels in their hands." The article notes that "the big theaters have complained that the bizarre judging system killed the awards' credibility."  The author of the piece is a former Hayes award judge.
The piece notes that Theatre Washington, the organization that bestows the Hayes awards, has an annual "Summer Hummer" fundraising concert.  Hmmm….