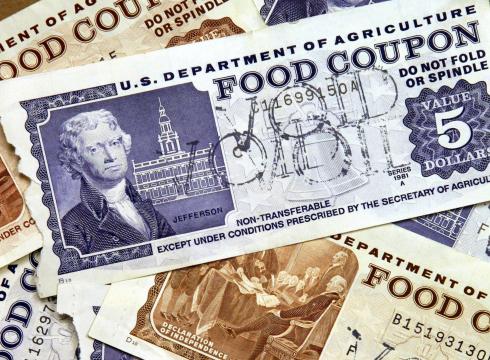 My USA Today oped on "Washington's Latest Hunger Charade"  is being reprinted in newspapers around the nation. It popped up in a few places in New Jersey and spurred the response below from the director of the New Jersey Anti-Hunger Coalition.
This anti-hunger activist laments that "USDA found that some 17 million people across the country live in households where they had to eat less than the typical American at times due to having limited resources."  First, this is a very subjective, if not vaporous, standard.  Second, when obesity is so widespread, why is eating less than the typical American inherently a problem?  Roughly seven times as many low-income kids are obese as are underweight, according to the Journal of the American Medical Association.
The New Jersey Anti-Hunger Coalition touts food stamps as a silver bullet against food insecurity.  Then why is food insecurity far higher now than before the recession despite a vast increase in the number of food stamp recipients?  Low-income people on food stamps have much higher rates of "food insecurity" than low-income households who do not rely on food stamps.
You recently published an opinion piece by James Bovard critical of the USDA's most recent food insecurity report ("Hunger charade is ineffective policy," Sept. 15). That report stated that more than 48 million Americans live with food insecurity, meaning they have "limited or uncertain availability of nutritionally adequate and safe foods or limited or uncertain ability to acquire acceptable foods."
Mr. Bovard's criticisms of the report are incorrect. Food insecurity is much more than fearing one would run out of food on one day. According to the department's website, the USDA counts a household as food insecure only after it meets three or more conditions. These range from worries over food running out before a family can afford more to actually running out of food to being unable to eat for a day because a family lacked the money to pay for more.
Many Americans face worse than just food insecurity. The USDA found that some 17 million people across the country live in households where they had to eat less than the typical American at times due to having limited resources.
This is an important measure of the problems Americans — and New Jerseyans — face in feeding themselves and their families. In New Jersey, the USDA report found, more than 1 million people are food insecure and some five percent of households, or about 420,000 people, have more significant meal disruptions and have to forgo meals at times because they lack the funds.
The USDA's report shows a slight decline in food insecurity, which is good news. Still, the number of those facing hunger remains higher than prior to the recession and has been stubbornly slow at falling.
With so many still having trouble providing enough nutritious food for their families, it is vital that Congress and President Obama at least maintain the Supplemental Nutrition Assistance Program at its current level. SNAP, formerly called food stamps, is the most effective program for battling hunger. It has been cut by Congress in recent years. We cannot afford any additional reductions. Washington also needs to support strategies that increase employment levels and increase wages.
Hunger does not discriminate, affecting children, senior citizens and the working poor. We have solutions like SNAP that work. We must use them to provide the maximum benefit to all those who need help.
Adele LaTourette
Director
New Jersey Anti-Hunger Coalition
The New Jersey Anti-Hunger Coalition is a statewide network of more than 100 organizations working to end hunger in New Jersey through education, advocacy and activism. For more information, visit www.njahc.org.