My old hometown Front Royal made the front page of the Washington Post website today. There's a scandal in the Economic Development Authority (EDA) – a busload of folks got indicted – lots of embezzlement charges flying around. EDA's tend to be political slush funds and have been motherlodes of scandal forever. One news report suggested that this may prove to be the "largest embezzlement scandal" in Virginia history.  The Post photo in the linked article shows that the EDA is headquartered on a notorious Superfund site. Great optics… I'd be interested to hear what Warren County folks think of this.
Here's a link to the Washington Post article on the indictments.
Here's a link to an excellent second Washington Post article dealing numerous scandals in Front Royal in recent years – much worse than I suspected.
The woman at the center of the corruption scandal claimed she had invented a method to win big $$$ while playing slot machines – and that explained all the money she had laying around. Should have been a warning sign. Here's a link to a Roanoke Times piece on Front Royal's scandals from a few months ago.

Here is a good run-down of the scandal warning signs that were disregarded in the Royal Examiner.
The mayor of Front Royal got busted for going to a massage parlor that was a front for prostitution recently. He denied wrongdoing and charges were dropped a few months later after he resigned.  Here's a link to the story on the prostitution bust, including photos of the four people accused. The pictures — well…  As a friend commented on Facebook, "Not exactly a Heidi Fleiss operation. I feel Front Royal voters deserve a mayor with better taste."

Here's a link to a report on the Front Royal Viscose Corp./Avtex Superfund debacle.  This was apparently at the center of some of the latest scandal.  Here is a link to a 1985 New York Times op-ed I wrote on Superfund, and here's a 1987 policy analysis I wrote on "The Real Superfund Scandal."
The Front Royal site was touted as a Superfund "brownfields success story" but that didn't work out so well.  That Viscose plant often made the town smell worse than a crematorium.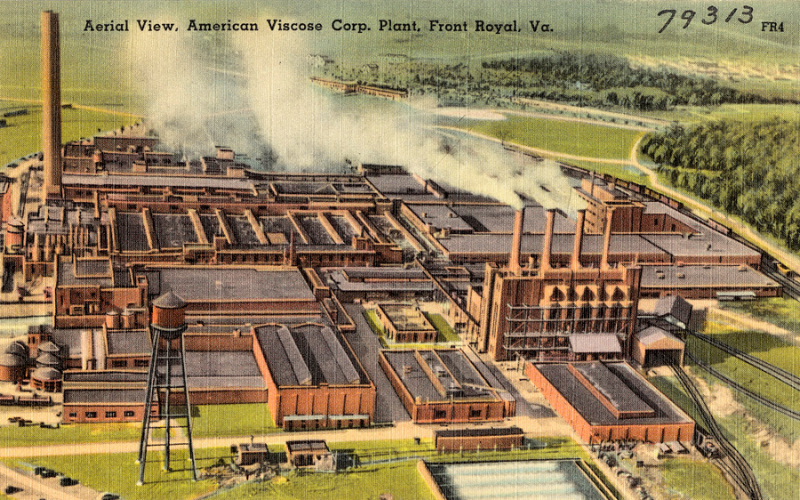 ***
I have also written about economic development slush funds.  Here's a 1988 New Republic piece on the graft in the Job Training Partnership Act, one of the Reagan administration's (and Dan Quayle's) proudest achievements –
The New Republic
September 12, 1988
SECTION: Vol. 199 ; No. 11-12 ; Pg. 19; ISSN: 0028-6583
LENGTH: 1070 words
HEADLINE: Quayle's egg: his only legislative achievement.
BYLINE: Bovard, James
BODY:
QUAYLE'S EGG
ASKED WHAT substantive legislative accomplishment he can point to after four
years in the House and eight years in the Senate, Dan Quayle has but one: the
1982 Job Training Partnership Act. Quayle praised himself in his New Orleans
acceptance speech for this federal job subsidy program even as he denounced
its co-author, Senator Edward Kennedy, as big-government liberalism incarnate.
JTPA replaced "CETA," the notoriously wasteful federal jobs program of the
1970s that featured programs like building artificial rocks for rock climbers to
practice on. The $ 3 billion-a-year JTPA is a 1980s-style program: it is
supposed to demonstrate the possibilities for government-business cooperation.
But the reality in Quayle's own state of Indiana shows that JTPA is nothing but
welfare for corporations and public service agencies.
In line with orthodox Republican thought, JTPA is administered through the
states. It does not create jobs so much as shift them around. JTPA gave $
600,000 to a company moving 140 jobs from a factory just north of the
Indiana-Michigan state line to a site just south of it. The Shenango Company, a
foundry operation in Dover, Ohio, is closing down its union plant in Ohio and
relocating in Terre Haute, Indiana, with $ 100,000 in job training help from
JTPA. Hebrew National Kosher Foods Inc. became mired in a labor dispute in
Queens, New York, shifted its operation to Indianapolis, and received JTPA funds
to train 49 new workers. Arvin Industries is closing down factories employing
1,140 people in Greenwood and Franklin, Indiana, and–with $ 2.5 million from
JTPA–is setting up a new factory employing 200 people in conjunction with a
Japanese partner in Madison, Indiana. As Tim Kelley, an Indiana Employment and
Training Service employee and former president of AFSCME Local 397, observes,
"If you're a business, you can either rob banks or threaten to move your
plant–you get money either way."
IN SEVERAL CASES JTPA not only paid companies to train workers at the new
location, but also provided "dislocated worker assistance" to workers laid off
at the old location–such as $ 525,000 in federal job aid for laid-off Arvin
workers. This is a "cat-chasing-its-tail" model of economic development.
JTPA is spending a modest $ 8 million to train new employees for a Subaru
plant in Lafayette, Indiana. JTPA funds are being spent for flying Indianas to
Japan for special training, and for teaching Japanese English so that they can
train American employees. The huge JTPA expenditure for Subaru has caused a
shortfall in other job-training funds in the Lafayette area, resulting in sharp
cutbacks in programs to teach remedial reading to low-income adults. The state
of Indiana also gave $ 267,000 to Subaru for a special executive search to find
a U.S. executive for the Subaru plant.
JTPA funds are being used to train employees for other Japanese
joint-venture projects in Indiana. If the Japanese government were paying for
the job-training costs of Japanese companies, members of Congress would scream
"unfair trade!" Yet apparently it is OK for U.S. taxpayers to pay for
job-training costs of Japenese-owned corporations.
Many companies are getting federal dollars for in-house "customized
training" of newly hired workers. But many of these "trainees" are already
experts in their occupation. A new supermarket in Tell City, Indiana, spent JTPA
funds to "train" former Kroger's supermarket employees–including a few with
over 30 years' experience in the business. The Terre Haute Tribune-Star recently
reported complaints by several JTPA trainees that their training was a waste of
time. One said: "How much on-the-job training does it take to do his task ? I
could show my ten-year-old kid, and he could do it."
The most colorful JTPA boondoggle is a category called
"employment-generating activities"–spending federal money on activities that
are supposed to create new jobs. In Peru, Indiana, the local private industry
council spent $ 5,000 to help start up a circus museum–claiming that a circus
museum would attract tourists, and thereby create jobs. JTPA funds paid more
than $ 15,000 for the mayor of Brazil, Indiana, and his son to travel to Japan
fishing for new investors. JTPA funds even paid for the mayor's gifts to
Japanese businessmen. The Western Indiana Private Industry Corporation spent $
12,000 on a feasibility study to set up a prep school for Japanese students.
JTPA recently sent Mayor J. Mark Lawyer of Anderson, Indiana, to Sweden.
Jobworks Incorporated in Fort Wayne is paying a consultant $ 86,000 a year
to help local businesses with federal contracts. This is wonderful: using
federal tax dollars to snare more federal tax dollars for Indiana. Many local
"private industry councils" are using JTPA money to advertise in Forbes,
Fortune, and Business Week to attract businesses to their area (in competition,
of course, against all the other JTPA-financed private industry councils).
In some states, government agencies are making huge profits of of JTPA
contracts and using the bounty to finance new government office buildings,
according to a confidential November 18, 1987, memo by Labor Department
Assistant Secretary Roger Semerad. Federal and state governments have made
little effort to ensure sound contracting procedures under JTPA. A December 7,
1987, confidential Indiana audit on JTPA grants in East Central Indiana
concluded, "There was no analysis of the price charged to determine if it was
reasonable, and all contracts lack emphasis on training-related placements." One
$ 3 million JTP a contract "did not contain a budget or financial breakdown nor
a description of activities to be performed." The grant recipient, Community and
Family Services of Portland, Indiana, apparently had set up its own load fund to
recycle the large profits it made off of JTPA contracts.
As with all such giveaway programs, stories of loose bookkeeping and fiscal
abuses abound. And stories of actual corruption are starting to sprout as well.
In neighboring Ohio, a Cleveland Plain Dealer investigation revealed that
Governor Richard Celeste's operatives had directed $ 1.7 million in JTPA
contracts to contributors to Celeste's campaign, including some grants that
state JTPA authorities derided as "worthless."
So much for Quayle's legislative record. JTPA is nothing to brag about.