by James Bovard
Reposing with a favorite author in the Virginia Tech library in 1976, I savored one zinger after another in Thomas Macaulay's History of England. Macaulay hailed the Habeas Corpus Act of 1679 as "the most stringent curb that ever legislation imposed on tyranny," a law that adds to "the security and happiness of every inhabitant of the realm."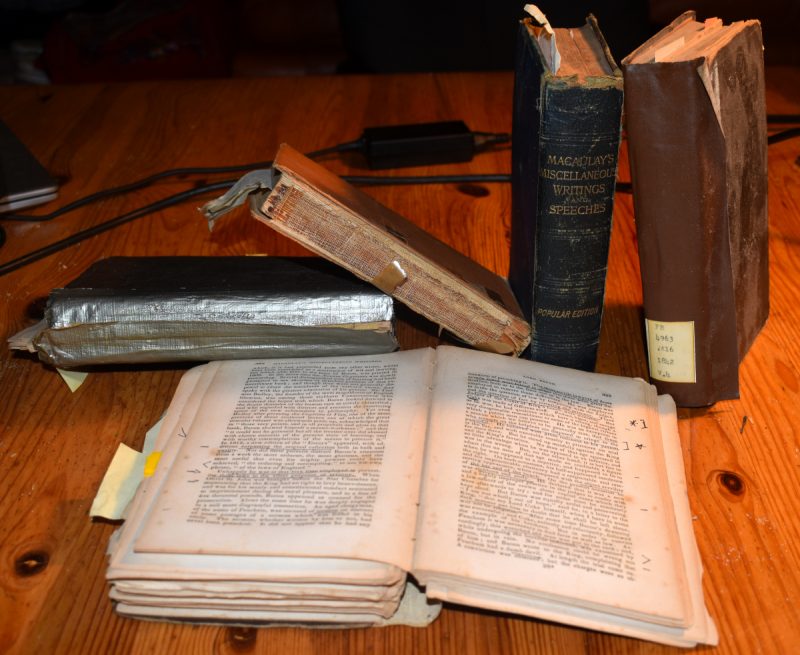 A petition for a writ of habeas corpus — Latin for "produce the body" — compels government officials to bring a detained person before a judge to be either formally charged or released. Habeas corpus was enshrined in the U.S. Constitution even before the Bill of Rights was added. In 1969, the Supreme Court declared that the writ of habeas corpus is "the fundamental instrument for safeguarding individual freedom against arbitrary and lawless state action."
Macaulay provided a wonderful round-up of ghosts of tyranny past. As America celebrated the 200th anniversary of its independence, however, I assumed that stuff about habeas was as irrelevant as the flintlock muskets used at the Battle of Bunker Hill.
And then George W. Bush proved me wrong.
When President Bush promised to "rid the world of evil" a few days after the 9/11 attack, I knew America was screwed. Because dozens of bad guys hijacked airplanes on September 11, 2001, the U.S. president miraculously acquired the prerogative to arbitrarily designate and perpetually detain anyone in the world he labeled an "enemy combatant." Bush subsequently declared that he also had absolute power over "illegal non-combatants." Anyone who was suspected of supporting terrorists or violent extremists or whatever forfeited all their rights.
Bush's decree made habeas corpus as irrelevant as it had been before the Magna Carta was signed in 1215. The president's executive order also negated all the judicial procedures and protections developed since 1789 to safeguard the rights of individuals seized by the government.
At the same time, Justice Department lawyers and FBI agents swooped down on more than a thousand immigrants, jailing them on any flimsy pretext they could find and denying them any legal rights or access to lawyers. Georgetown University law professor David Cole observed: "Never in our history has the government engaged in such a blanket practice of secret incarceration." Federal judges vehemently protested, but the abuses continued.
I was astounded that Bush's proclamation did not spur a sweeping backlash. A few pundits and Democratic members of Congress groused but not enough to raise a ruckus. Throughout history, politicians have concocted outlandish pretexts to claim boundless power, but they have usually gotten smacked down by contemporaries. But America's purported leaders were more craven or more clueless than the English statesmen who thwarted the absolutist Stuart kings almost 400 years earlier. A 1621 Parliament report eloquently warned: "If [the king] founds his authority on arbitrary and dangerous principles, it is requisite to watch him with the same care, and to oppose him with the same vigor, as if he indulged himself in all the excesses of cruelty and tyranny." Bush's enemy combatant declaration was the epitome of the arbitrary and dangerous principle cited by Parliament, but most of the Washington establishment shrugged, nodded, or applauded.
In retrospect, the Bush administration was just getting warmed up.
War crimes for the homeland
I was charmed by Macaulay's writings because his casual comments exposed more truth than most contemporary historians reveal in an entire book. Macaulay immortalized an odious Scottish minister of the late 1600s as "the man who had first introduced the thumbscrew into the jurisprudence of his country."
Great damn line, I thought, when I read it 40 years ago. Luckily, Americans were far too enlightened and civilized to worry about that type of … whoops.
After 9/11, President Bush left no barbarity behind as he created a secret worldwide torture regime. On August 1, 2002, the Bush Justice Department secretly redefined torture (banned by federal law and the U.S. Constitution) to refer only to pain and suffering "equivalent in intensity" to "organ failure … or even death." The new definition nullified a long history of U.S. court precedents and international treaties. White House Counsel Alberto Gonzales dismissed concerns about whether the U.S. government was violating the Anti-Torture Act and other prohibitions by invoking the "Commander-in-Chief override power" — another bizarre invention of Bush's legal wizards.
"Enhanced interrogation" quickly became Washington's favorite euphemism. To sway detainees to spill their guts, CIA interrogators were entitled to use head slapping, waterboarding, frigid temperatures/hypothermia, manacling for many hours, blasting with loud music to assure sleep deprivation for seven days and nights, and "walling" — throwing a detainee against a wall but not more than 30 times in a row. CIA interrogators often did not speak the language of the detainees, so they compensated by beating the hell out of them. Bush's interrogators tore out toenails, relied on compulsory enemas for "feeding," simulated live burials in coffins for hundreds of hours, burned detainees with electric shocks, and inflicted "sensory deprivation through the use of hoods." CIA operatives or U.S. soldiers killed dozens of detainees during interrogations, but those fatalities were treated like paperwork errors, not homicides. The Justice Department slapped gag orders on torture victims to prohibit them from revealing exactly how they had been scourged.
What could be worse than systematically torturing detainees around the world? "A practice the most barbarous and the most absurd that has ever disgraced jurisprudence," as Macaulay wrote in his damning essay on his favorite philosopher, Francis Bacon. In late 2004, a top Justice Department official announced plans to use "evidence" gained by torture in judicial proceedings. The perverse legal rationale: Bush had declared that enemy combatants "have no constitutional rights enforceable" in court, and you can't violate rights that don't exist.
In June 2006, the Supreme Court rejected the Bush administration's claims that the Geneva Conventions did not apply to War on Terror detainees. Bush out-fearmongered himself, whipping up a backlash against any limits on his power. He warned that CIA interrogators "will not take the steps necessary to protect" America "as long as the War Crimes Act hangs over their heads." So anyone who opposed committing war crimes automatically was a threat to the safety of the homeland? This was one of the most astounding rhetorical reversals of the War on Terror, but it received scant coverage in the press.
Congress caved to Bush's browbeating, enacting the Military Commission Act and retroactively legalizing all the torture inflicted after 9/11 and prior to December 30, 2005. The act also effectively blocked any lawsuit from torture victims or their survivors. The act authorized the commissions that Bush created to put terror suspects on trial to accept "evidence" produced by interrogations that violated "cruel, unusual or inhumane treatment" standards as long as the abuse didn't qualify under the new "damn near died" definition of torture.
The act authorized judicial hearings that resembled a 1938 Moscow show trial. Defense attorneys could "challenge the use of hearsay information obtained through coercive interrogations [torture] in distant countries only if they can prove it is unreliable," the Washington Post noted, but it was almost impossible to disprove an accusation when a defense lawyer was not allowed to question or perhaps even know who made the charge.
When I was coming of age in the 1960s and 1970s, torture was something that the Nazis and the Soviets did, but the Bush administration literally copied brutal Soviet interrogation methods and added them to the U.S. playbook. I was almost as astounded by the cheerleading for Bush's torture regime as by the torture itself. When I criticized torture in speeches to libertarian and conservative audiences in those years, I was booed and heckled but didn't get waterboarded. The new Millennium was hell on old-time American idealism.
Obama's sacrosanct killings
The venality of the English monarchy was clearest when enemies of the regime were prosecuted in high-profile trials. Prior to the 1688 Revolution, Macaulay wrote, "a state trial was merely a murder preceded by the uttering of certain gibberish and the performance of certain mummeries."
Happily, the U.S. government has never used "gibberish and mummeries" to shroud its killings, except maybe for President Barack Obama's "Terror Tuesdays." Obama claimed a prerogative to assassinate U.S. citizens and anyone else without a trial or warning if they were labeled terrorist suspects. In April 2012, to boost Obama's re-election campaign, the New York Times profiled the White House PowerPoint Death Parade: "Every week or so, more than 100 members of the government's sprawling national security apparatus gather, by secure video teleconference, to pore over terrorist suspects' biographies and recommend to the president who should be the next to die." Obama personally selected who to kill next: "The control he exercises also appears to reflect Mr. Obama's striking self-confidence," the Times noted.
Unfortunately, this was the type of contemporary "confidence" unrelated to competence. The CIA usually had little or no idea who it was killing with the Obama-approved drone attacks. Daniel Hale, a former Air Force intelligence analyst, revealed that nearly 90 percent of people killed in drone strikes were not the intended targets. The New York Times reported that U.S. "counterterrorism officials insist …people in an area of known terrorist activity … are probably up to no good." The "probably up to no good" standard absolved almost any drone killing within thousands of square miles in Pakistan, Yemen, and Somalia. Regardless, Obama bragged about the wrongful killings as proof that he was tough on terrorism.
I thrashed the drone-killing spree in a Christian Science Monitor piece headlined: "Assassination Nation: Are There Any Limits on President Obama's License to Kill?" Some readers were enraged, denounced me as a traitor, and called for adding my name to the assassination list. (Hasn't happened, yet.)
Banishing passive obedience
One of the most frequently recurring villains in Macaulay's essays and History of England is the doctrine of passive obedience. In the 1660s, after the English Civil War and the restoration of the monarchy, Church of England preachers hectored people on "the folly and wickedness of all resistance to established government." The king was God's chosen and must be obeyed, regardless of how depraved and abusive he or his agents became. As one 1660 English pamphlet warned, "Were not the King a God to man, one man would be a wolf to another."
Preachers and politicians told people that they were obliged to submit to the king no matter how many laws the king violated. English liberty survived because the English people "were much more perfect in the theory than in the practice of passive obedience." Macaulay wisely declared that a society is not "bound to endure passively all that tyranny can inflict, because nobody has ever been able precisely to define the amount of misgovernment which justifies rebellion."
The new version of "passive obedience" tells Americans that they have a duty to believe every proclamation by presidents and other officials. As in the Soviet Union, distrust of government is derided as a mental illness ("Oppositional Defiant Disorder," according to the American Psychiatric Association's Diagnostic and Statistical Manual of Mental Disorders). Cynicism is the ultimate target of the Biden administration's National Strategy for Countering Domestic Terrorism, which explicitly aims for "enhancing faith in government." Federal agencies are browbeating social media companies to censor dissent. The FBI has 80 agents on a task force to curb "subversive data utilized to drive a wedge between the populace and the government."
Scores of millions of people will unquestioningly obey no matter what Washington commands. Conspiracy theories are practically the only reason that someone would distrust the U.S. government — at least according to the Friends of Leviathan. But when people blindly assume their leaders are trustworthy, the biggest liars win. To swallow the lie is to almost guarantee submission. If people are trained not to doubt the government, politicians need only keep lying and denying until they have smashed all limits on their power.
But why should citizens intellectually disarm themselves in the face of political aggressors? Why should they accept the passive obedience that was preached for centuries to the politically downtrodden? Are citizens obliged to continually cast their common sense and memories overboard as if they were seeking to placate an angry pagan god?
A cure may be coming for the servility that is widespread nowadays. Macaulay summarized England's path to the 1688, Revolution: "Oppression speedily did what philosophy and eloquence … failed to do." After trampling the law and subverting rights, King James II was ousted in 1688, and Parliament speedily enacted laws to curb all subsequent monarchs. Will American politicians heed that lesson? Obedience can vanish after one
decree or government muzzle flash too many.
The Liberty Fund has kindly posted free copies of Macaulay's essays in its Online Library of Liberty.
This article was originally published in the September 2023 edition of Future of Freedom.