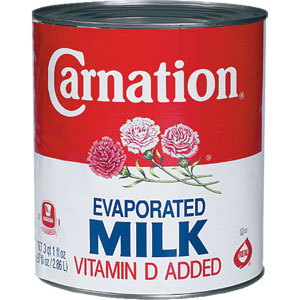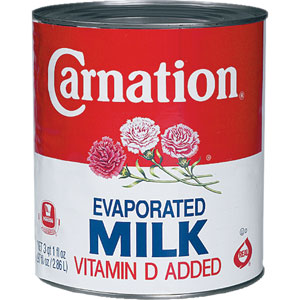 This is the time of year when folks use sweetened condensed milk for pumpkin pie, peanut butter fudge, and many other holiday treats. Every time I see those cans advertised, I am reminded of my father's favorite poem.
My father worked on farms for most of his life, including two summers during high school on a Pennsylvania dairy farm.  He was proud that he had "improved" the farm's operation by starting the milking half an hour earlier at 4:30 a.m.  I was always mystified why he thought that was a virtue, since I am a sloth until sunrise.  Maybe he read Ben Franklin's autobiography once too often ("early to rise makes a man…).  But his experience dodging cow hooves before daylight gave him a healthy appreciation for the alternative.
He often told folks about how the Carnation Milk company sponsored a contest in 1946 for a jingle for their evaporated milk.  The winning entry purportedly came from a Nebraska farm wife:
Carnation milk, best in the land.
Comes to the table in a little red can.
No teats to pull, no shit to pitch.
Just punch a hole in the sonofabitch.
Here's one version of how the jingle came to be written. (Several different versions of the jingle are floating around the Internet.) And here is the Snopes.com page casting doubt on the story. But it made a great story regardless and my father always grinned ear to ear when he recited the jingle.