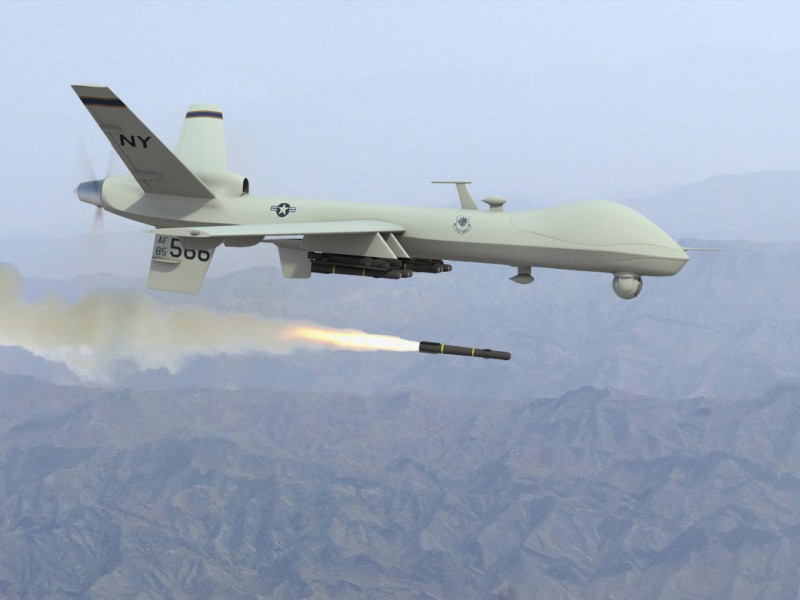 Sen. Rand Paul did great work focusing America's attention on drone killings last month during his filibuster. I was surprised to learn today that Sen. Paul endorses using drones to kill suspected liquor store robbers: "If someone comes out of a liquor store with a weapon and fifty dollars in cash I don't care if a Drone kills him or a policeman kills him…"
Lots of folks I know with concealed carry permits (or with concealed weapons regardless) have $50 on them when they leave the liquor store…
Sen. Paul also apparently would not object to using drones domestically in critical police actions: ""If there is a killer on the loose in a neighborhood, I'm not against drones being used to search them." Paul also said in the Salon article: "Here's the distinction, I have never argued against any technology being used against having an imminent threat an act of crime going on…"
"Imminent threats" have a way of breeding like lemmings….
Rand Paul had been scheduled to be the star lead-off witness for the first-ever Senate hearing on drones and killing today. The ACLU had heavily promoted his appearance with a "Stand with Rand" motto. However, after the time for today's hearing was shifted from 10 a.m. to 4 p.m., Sen. Paul announced that he had a schedule conflict and could not make the event.
UPDATE: Jordan Bloom of the American Conservative wrote a brief piece mentioning this blog entry and seeking to vindicate Rand Paul.  There's lively sparring in the comment section; several folks are making excellent points. Check it out here.
UPDATE #2:  Senator Paul's office issued a statement this evening: " "My comments last night left the mistaken impression that my position on drones had changed.
 "Let me be clear: it has not. Armed drones should not be used in normal crime situations. They only may only be considered in extraordinary, lethal situations where there is an ongoing, imminent threat. I described that scenario previously during my Senate filibuster.  Additionally, surveillance drones should only be used with warrants and specific targets."
My view: The phrase "ongoing, imminent threat" is still extremely vague.