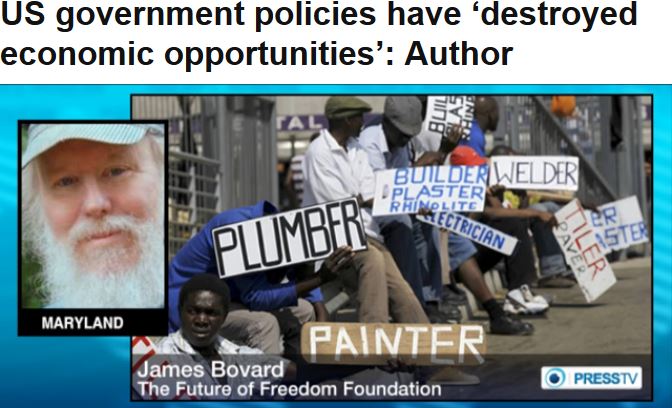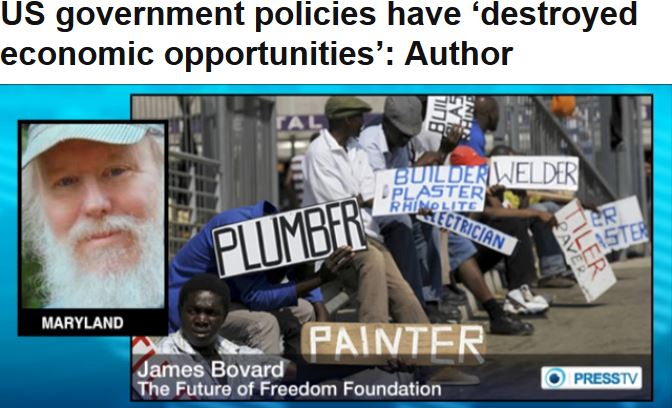 As I was getting ready to race out the door for a tromp yesterday morning, I got a call from Press TV.  Would I comment on the latest jobs report?  What the heck – it was almost 9 a.m., and I had not yet vented that day.  (I wonder if there could be any misunderstandings from their photo above.)  Anyhow… here's their summary on the interview:
The financial policies of the US government have "destroyed economic opportunities" across the country, causing a large increase in unemployment, an American author in Maryland says.
"There is a huge increase in the number of people who are out of the labor force right now," said James Bovard, who serves as policy advisor to The Future of Freedom Foundation.
"The Obama administration's policies have destroyed economic opportunities across the nation," Bovard told Press TV in a phone interview on Saturday. "A lot of his regulations, his healthcare mandate and others have made it far more expensive for businesses to hire people, so there are far fewer jobs coming out that way," he added.
"Another aspect is the federal government is making a lot more threats of lawsuits against businesses… that's also impeding hiring."
About 806,000 Americans dropped out of the labor force in April, the Labor Department said Friday. The labor force participation rate sank to 62.8 percent in April from 63.2 percent in March to reach a 36-year low.
Economists note that one-third of the unemployed have been out of work for six months or longer, and recent research suggests that many of them are not being seriously considered by employers.