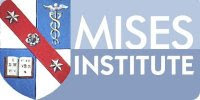 I had a lively chat yesterday with Mises Institute President Jeff Deist regarding Hayek, Mencken, Washington venality, the Great Books, that bastard Nixon,  and some of my muckraking over the past decades.  I was not aware that folks had considered me a unicorn – I'm more accustomed to being compared to weasels or guttersnipes.  Their interview description refers to my "incendiary career" – a characterization which will hobble my efforts to rebrand myself as a moderate.
Jeff was Ron Paul's speechwriter from 2000 to 2006, and I mentioned how impressive Ron Paul was immediately after 9/11 when almost everyone  else on Capitol Hill was cowering.
I really appreciated Jeff having me on his show and Floy Lilley setting up and organizing the interview.  The interview is part of the Mises Weekend series available here. You can download the interview as an MP3 from that site or by clicking below –
The interview is also available at iTunesU: https://itunes.apple.com/us/itunes-u/mises-weekends/id884207568
and on Stitcher: http://www.stitcher.com/podcast/mises-institute/mises-weekends
If you're interested in some of the recollections in this interview, you might want to take a look at Public Policy Hooligan: Rollicking and Wrangling from Helltown to Washington. That includes more background on how I became so skeptical of political saviors, not to mention police, teachers, editors, and angry women with knives.