The Libertarian Party of Ohio (www.lpo.org) held their annual convention last weekend in Worthington, Ohio. I was there for a Saturday night spiel, and it was a treat to meet so many folks gung-ho to fight for freedom. Many of their activists had a fervor about them which I rarely see inside the Beltway.
The LPO is the fourth-largest libertarian party in the country, and it is rapidly rising. They have a full slate of candidates for this Fall's election, and they seem far better organized that most LPs. They are hungry to put a dent into the two-party hegemony which has long blighted their state.
Scott McClure was their photographer, and it is with his permission that I repost some of these shots he took over the weekend. The full set of his photos is available here.
An Excellent State LP Banner


a>
Where's that Durn Cigar Cutter?

Talk Show Superstar Brian Wilson, receiving the Fisherman of the Year award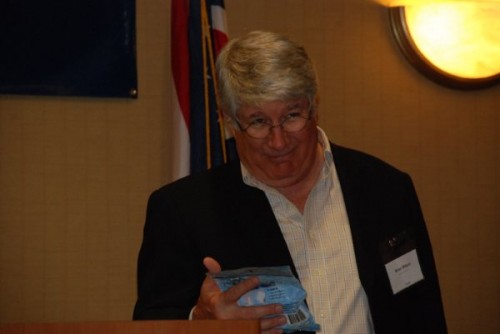 Conference mastermind Luke McKellar, LPO Treasurer Michael Johnston, and LPO chairman Kevin Knedler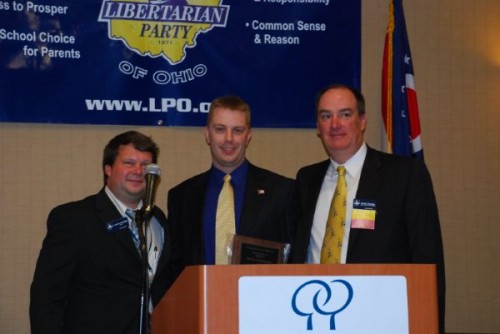 Wayne Root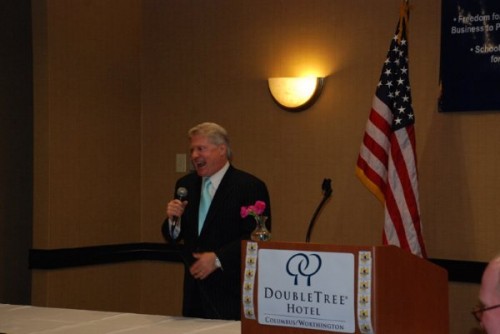 Wayne Root